WILD GROWTH HAIR OIL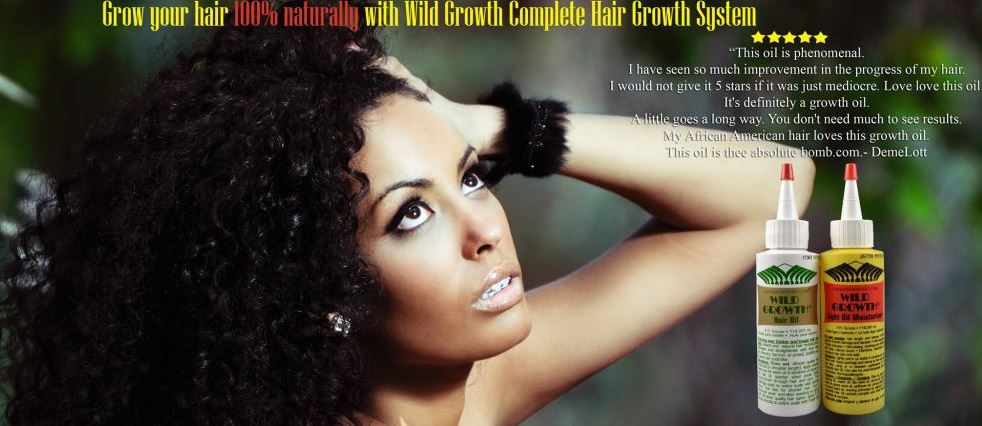 First time ever thicker and longer hair, eye brows, eye lashes and nails, instant and natural hair re-texturizer, detangler and straightener with less heat (ex, blow-dry, flat iron, or press ), relaxer stretcher, hair bodifer and fly away hair controller.
How To Use : Shake Well, African quality hair ( mid-neck to shoulder length ) 15-20 drops for each of 4 sections of damp towel dried or dry hair. Comb/Brush through hair and part. Then sparingly apply to entre scalp with pointed spout. Use less for shorter hair.
Use 3 times per week and after washing on damp directly to entire scalp with finger tips on damp or towel dried hair.
Comb or brush through every 3-5 minutes until hair completely dries. Reduce quantities used to avoid onliness. Apply between washes only if hair becomes dry.
Use as directed. Non-hypoallergenic
? Create less frizz, more thickness, more body, less split ends, less breakage, and a healthy scalp for hair fullness,length, bounce, sway, and shimmer!
? Enjoy anti-friction, anti-stick, high-glide action/high lubricity, low weight, low oiliness conditioning contributing to critical 24/7 hair growth and protection.
Shipping
-Orders are packaged and shipped on business days only. Business days are Mondays through Fridays (excluding national holidays).
Delivery
-FREE SHIPPING ON ALL CONTINENTAL U.S. ORDERS OVER $60
-PLACE ORDER BY 4PM(EDT) AND WE WILL SHIP SAME DAY
-Bulk orders are welcome. No limits on weight.
Return Policy
-Please note when making an order with So Good BB, you are agreeing that you understand our Terms of Use as well as our Return Policy.
-Customers are responsible for return shipping costs.
-Original shipping cost is not refundable.
-There will be a minimum of 20%~30% restocking fee charged for all returns, depending on the condition of the item(s).
-Refunds for returning items will be provided via So Good BB store credit.
-We do not accept any return/exchange requests after 48 hours of the package being delivered.
-We currently do not accept international returns.
-Return policy is subject to change without notice.
Payment Information
We accept PayPal, Visa, Master Card, Discovery, American Express.